Mamelodi Sundowns Top 10 Earners In 2023
Mamelodi Sundowns Top Earners
Sundowns FC is known for bringing in the most expensive players to build their squad that competes in many competitions in one season.
The club recruits experienced players from around the world, having recently brought in players from Uruguay and Chile.
Sundowns is the most successful club in recent times in the DStv Premiership, so let's look at their squad of most expensive players this season.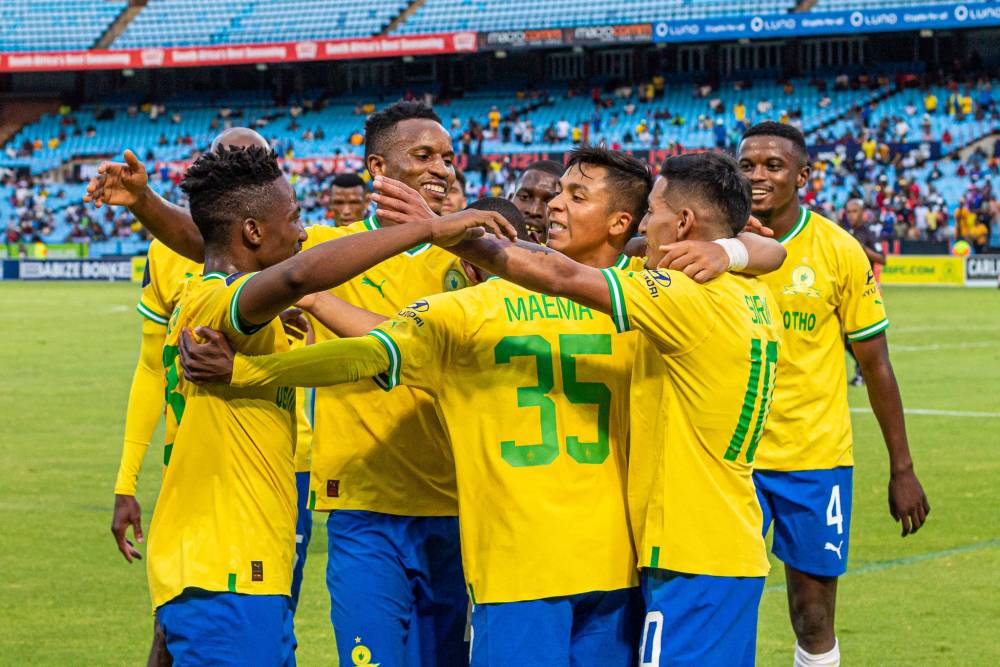 Source: Mamelodi Sundowns Facebook Page
Top 10 Highest Paid Players At Sundowns
Below is a list of the most expensive and top paid players at Mamelodi Sundowns FC:
Bongani Zungu
Ronwen Williams
Gaston Sirino
Marcelo Allende
Abubeker Nassir
Thapelo Morena
Themba Zwane
Denis Onyango
Tebogo Mokeona
Mosa Lebusa
It's been confirmed by KickOff that Zungu has become the top-paid player at Sundowns.
Unfortunately, the exact figures cannot be disclosed due to ethical reasons. And it's also important to note a player salary is determined by a number of factors such as performance, contract negotiations, and market conditions.
Factors Contributing to the Player Salaries
As indicated, there are many factors that contribute to how much a soccer player makes, but let's discuss the following:
Performance: A player's performance on the field is one of the most important factors that determines their value and earning potential. Successful players who score goals, make assists, and win games are often highly sought after and can command high salaries.
Experience: Experienced players who have proven themselves at the highest levels of the game are often in demand and can negotiate higher salaries. This includes players who have represented their national teams or played for top clubs.
Position: Different positions on the field have different demands and responsibilities, and players who excel in key positions such as striker, midfielder, or goalkeeper can often command higher salaries.
Marketability: Players who have a strong following or appeal off the field can also earn more. This includes players who are popular with fans, have a strong social media presence, or have endorsement deals with major brands.
Negotiation: Ultimately, a player's salary is determined by their ability to negotiate with their club or potential employer. Players who have strong agents and are skilled negotiators can often secure better contracts and higher salaries.
How Clubs Like Sundows Generate Revenue
Soccer clubs such as Sundowns generate revenue from various sources to afford staff salaries, including expensive players. Here are some of the many ways of income for soccer clubs:
Club Grants: PSL is reported to be offering a grant allowances of up to R2 million per month per club.
Matchday revenue: This includes revenue generated from ticket sales, merchandise sales, and food and beverage sales during home games.
Broadcasting revenue: Soccer clubs earn money from broadcasting rights for their matches, including domestic and international TV deals.
Sponsorship and advertising: Clubs can generate revenue by selling advertising space in their stadiums, on their jerseys, and on their websites. They can also earn money from sponsorships with companies that pay for the right to use the club's name and logo.
Player transfers: Clubs can earn significant revenue from selling players to other clubs. When a player is sold, the selling club receives a transfer fee, which can be substantial for top players.
Prize money: Clubs that participate in domestic and international competitions can earn prize money for winning matches and tournaments.
Merchandising: Soccer clubs can earn money by selling branded merchandise, including jerseys, hats, and other gear.
Stadium events: Clubs can also generate revenue by hosting non-soccer events in their stadiums, such as concerts, conferences, and other sporting events.